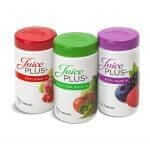 Juice Plus Premium Capsules
Juice PLUS+ Premium capsules contain a wide range of natural nutritional ingredients are derived from 30 different kinds of fruits, vegetables and berries. Juice PLUS+ Premium: Fruits, vegetables and berries are harvested when they reach perfect ripeness, and then carefully treated using our very own patented process.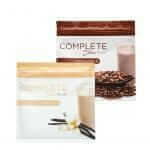 Juice Plus Complete Shakes
Juice Plus Complete Shakes provide you with an optimal blend of protein, dietary fibre, minerals, and vitamins. They are also completely free from preservatives and artificial colours. Juice Plus Complete is suitable for any situation, wherever you are: whether for breakfast, lunch, or simply as a snack in between meals.
Juice Plus Gold Package contains: