The Ultimate 10-Day Smoothie Challenge: Finally, A Plan That Works for You and Your Family!
Are you looking for a simple, delicious way to boost your health and energy levels? Look no further! Our 10-Day Smoothie Challenge is designed to kickstart your journey towards a healthier, more vibrant you.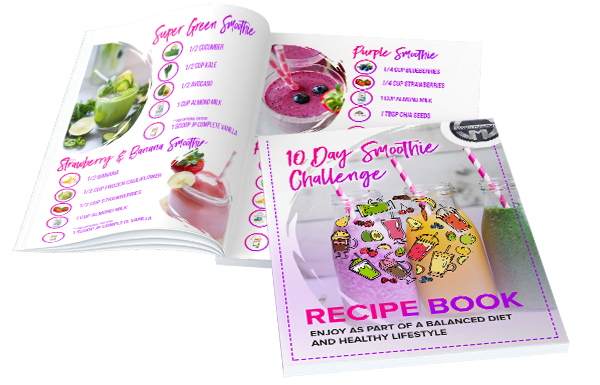 Our popular 10 Day Smoothie Challenge will help you get BACK on TRACK with your health and fitness goals in just 10 days! GET 12 Delicious Smoothie Recipes. 
Here's what you can expect with this Smoothie Ebook: 
Focus on Plant-Based, High-Protein Ingredients
Our smoothies are designed to be made in 5 minutes or less!
Delicious recipes that all the family will love 
Lose up to 7lbs, get More Energy and Sleep Better  
Put an end to countless diets, and meal plans, only to find them too hard to maintain, not family-friendly, with this 100% FREE Smoothie eBook today!
Why Join the 10-Day Smoothie Challenge?
Forget complicated diets and endless ingredient lists. Our smoothies are made with simple, wholesome ingredients that are easy to find and fun to blend.
Each recipe is a perfect blend of taste and nutrition, ensuring you enjoy every sip without compromising on health benefits.
Say goodbye to energy slumps. Our smoothies are packed with natural ingredients that keep you energized throughout the day.
Get the whole family on board! Our smoothies are loved by both kids and adults, making healthy living a shared family experience.