If you're looking for more ideas on how to make your Juice Plus shakes taste better, check out the following yummy vegan protein shake recipes. If you don't have time for a sit-down breakfast, then a Juice Plus vegan protein shake, which also contains good fats, fibre and a ton of vitamins and minerals, will keep you fully fuelled until lunch.
What is Juice Plus Shakes
Juice Plus plant-based protein powders are a great supplement for anyone looking to increase their protein intake, including omnivores, vegans, and everyone in-between. Juice Plus plant-based protein powders come from many sources including pea protein, pumpkin seed, rice protein and soy protein. These offer a versatile option for those who have a sensitivity to typical dairy-based protein powders such as whey or those who are simply looking to add more high-quality, easily digestible protein to their diet.
Juice Plus Shake Main Ingredients
Acerola  cherry  powder,  pomegranate  powder,  pumpkin  powder,  amaranth,  millet,  quinoa,  broccoli  sprout,  alfalfa  sprout,  radish  sprout, rice bran, apple powder, spirulina, chickpeas powder, rice protein, pea protein isolate, pea protein.
Juice Plus Shake Main Proteins
Pea Protein: Pea protein powder is made from field peas — which are nearly four times higher in protein than sweet peas — helping pea protein powders pack up to 80% protein content. Handily, pea protein is allergen-free too, meaning it's suitable for vegans and those with food allergies.
Soy Protein: This vegan protein has been used for decades and comes from defatted soy flour. After processing, it can contain up to 90% protein content and has a neutral.
Pre-workout and Recovery
Juice Plus shakes also make a great Pre-workout and recovery protein shake, they give your muscles all the fuel they need to perform to their maximum potential during and after your workout. After a hard workout your body is crying out for high-quality protein to repair the damaged muscle tissue so they can grow back bigger and stronger.
Weight and fat loss
One of the key ways to losing weight is to reduce your calorie intake while still eating enough essential vitamins and nutrients, and drinking plenty of water. Juice Plus shakes are packed with healthy compounds, but it's also got protein and fibre to keep you feeling full.
Juice Plus Shake Ideas and Recipes
Here is a list of healthy Juice Plus shake recipes is everything you'll need to start your day off on the right foot. These shakes are packed with nutrition, high in protein, creamy and delicious. Whether you're taking your breakfast shake on the go or using your shake before and after going to the gym or looking to lose those few unwanted pounds, this list is sure to have a shake or two that's just right for you. All the shakes on this list are vegan and gluten free.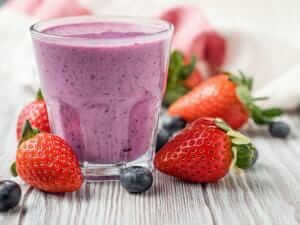 Chia, and Berry Vegan Shake
Chia seeds give this vegan smoothie its thick texture, while cardamom adds a distinct sweetness. We use a mix of raspberries and strawberries here, but feel free to experiment with your favourite fruits.
Ingredients
220ml almond milk
3 tablespoons chia seeds
1/2 cup frozen raspberries
1/2 cup frozen blueberries
1/2 cup frozen strawberries
1 scoop of Juice Plus Complete Vanilla Powder
Directions
Puree ingredients in a blender until smooth.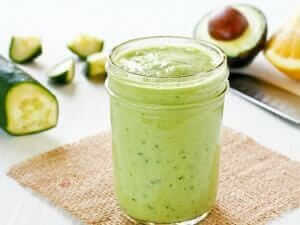 Spinach, Avocado, and Cucumber Vegan Shake
Cucumber lends its cooling flavour to this green vegan smoothie, which packs in 2 cups of antioxidant-rich baby spinach
Ingredients
220ml almond milk
2 big handfuls baby spinach
1/2 small cucumber
1/2 avocado
Juice of 1 lemon
1 scoop of Juice Plus Complete Vanilla Powder
Directions
Puree ingredients in a blender until smooth.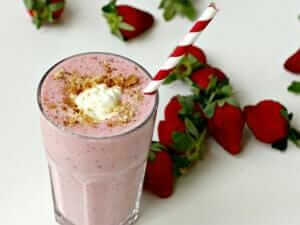 Strawberry Cheesecake Vegan Shake
If you love smoothies and milkshakes… and you like strawberries, you'll love this one! This Strawberry Cheesecake recipe is perfect for kids and you!
Ingredients
220ml almond milk
1/2 cup coconut yogurt
1/2 frozen banana
1 cup frozen strawberries
1 scoop of Juice Plus Complete Vanilla Powder
Directions
Puree ingredients in a blender until smooth.
If you would like more delicious Juice Plus Shake recipes please sign-up for our FREE 10 day smoothie and workout challenge, where you will get access to 12 incredible more recipes.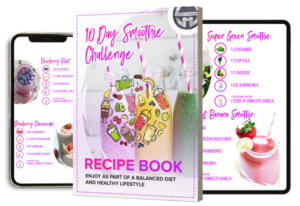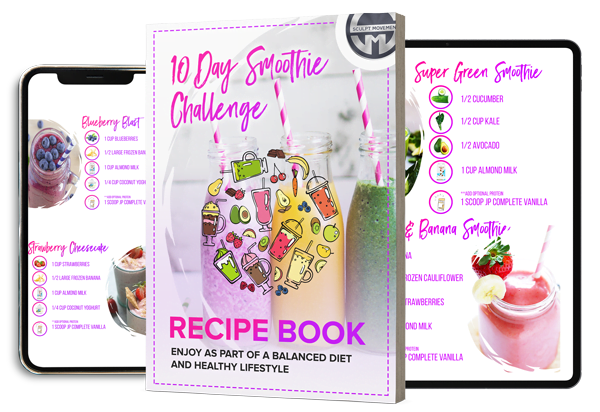 GET YOUR FREE 10 DAY SMOOTHIE RECIPE BOOK