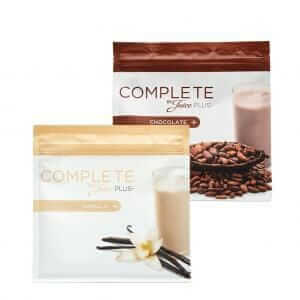 Juice Plus Complete Shakes
Juice Plus Complete Shakes provide you with an optimal blend of protein, dietary fibre, minerals, and vitamins. They are also completely free from preservatives and artificial colours. Juice Plus Complete is suitable for any situation, wherever you are: whether for breakfast, lunch, or simply as a snack in between meals.
Highlights
This delicious protein is created to supplement your workouts and protein needs
Proprietary plant protein blend with pea, oat, and chia
19 grams of protein per serving
Add to your daily smoothie, almond milk, or water
Ingredients: Soy protein isolate, sugar (from sugar beet), fructooligosaccharides, emulsifi er (soy lecithin), thickener (gum arabic), fructose and dextrose (from grape), thickener (guar gum), fl avourings, acerola cherry powder, pomegranate powder, pumpkin powder, amaranth, millet, quinoa, broccoli sprout, alfalfa sprout, radish sprout, rice bran, apple powder, spirulina, chickpeas powder, rice protein, pea pro-tein isolate, pea protein, vanilla bean powder (0.01 %), citrus fi ber, sunfl ower oil, vi-tamin A, vitamin D, vitamin E, niacin, thiamin, ribofl avin, vitamin B6, folic acid, biotin, pantothenic acid, vitamin K, potassium, iron, zinc, iodine, copper, magnesium, man-ganese, selenium, anticaking agent (silicon dioxide), salt, sweetener (steviol glyco-sides), thickener (xanthan gum).