By now, I'm sure you've heard all about our Shred-IT Plus+ programs. Have you ever wondered…
What is it like to participate in those programs?
What kind of results are participants are having?
Is this something that I could do?
Well, wait no longer! We are going to talk all about our December ShredIT Plus+ program. We'll talk about the results and experiences of our participants and share their real feedback. Let's dive in!
What's It Like to Participate in the ShredIT Plus+ Program?
First of all, it's just a ten-day program! You can do almost anything for ten days, right? Here are the rules for the ten days.
Eliminate dairy and gluten.

Reduce caffeine, alcohol, and sugar.

Add more real food.

Take your Juice Plus+ Capsules daily.

Drink 1-2 Complete shakes daily. Get smoothie ideas here.

Get 7-8 hours of sleep a night.

Drink plenty of water.

If you want to step it up a notch, you can participate in daily workout challenges that we post in the Facebook group. Or you can plan your own workouts. Many participants get out and run outside and do exercises in their homes.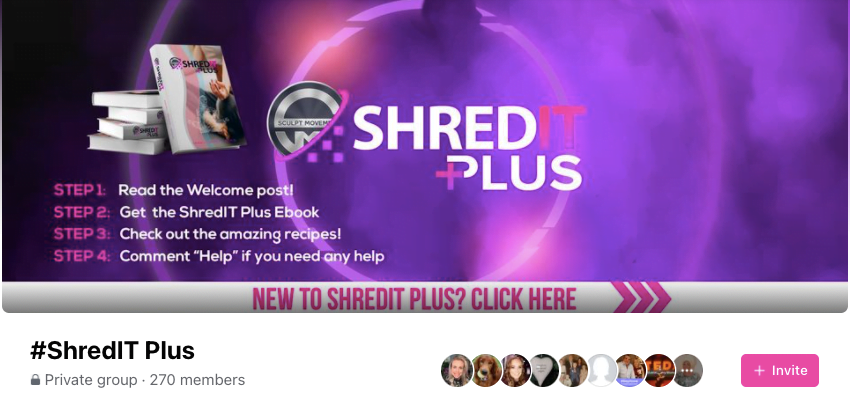 It's Not Just the Program, but the Support
Participants also get the support of our ShredIT Plus+ Facebook Group. Everyone who participates in this program gets asked to join our group. We post daily workouts in the group and other tips and helpful information. Each day participants post what they did and ate to remain accountable. Many participants post in the group asking questions for help solving problems. Everyone is very supportive and engaged in the group. We feel that that is the second biggest benefit to signing up for this program (aside from the benefits from
What Are Some of the Results From December?
One participant lost 8lbs! Her waist and hips both went down three inches! She also lost 2 inches in her legs and didn't have any headaches during the program! Another participant also reported an 8lb weight loss! Not bad considering many (who aren't on the ShredIT Plus+ program) gain weight in December thanks to all of the holiday meals and treats. Many of them felt so good they wanted to continue with the changes that they had made for the ten days and that's the biggest win of all!
Here are a Couple of Actual Comments From Our Participants
These are actual comments from our Facebook Group. We didn't edit them at all. We just added the images here. You can see how thrilled each participant was with their results.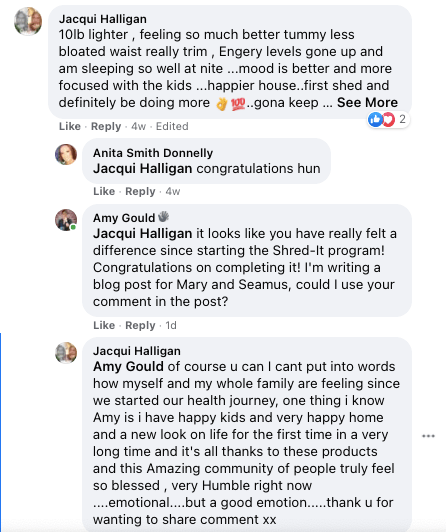 How Can You Participate in the ShredIT Plus+ Program in January?
Let us know that you would like to participate in our January program. The deadline to order your Juice Plus capsules and Complete Shakes is December 26. The January ShredIt Plus+ program starts January 11. It's the perfect way to kick-off the new year and re-focus on your health after the holidays!
How are you planning to re-focus on your health after the holidays? Share your plans in the comments.